Gruppenbild mit KARL: Diese fünf Kollegen haben den neuen Kleinstwagen ganz genau unter die Lupe genommen.
Fünftürer mit Platz für fünf Personen: Auch das haben die Kollegen natürlich gleich mal ausgetestet.
Adem Koyuncu's glance drifts back and forth from side to side as he checks out the curves. Nadine Vera goes in much closer. For her, it's the "inner values that count." Sebastian Windgätter takes a more pragmatic approach and asks what the whole thing will cost him, while Thomas Preiß takes it one step further and examines the car's overall quality and workmanship. He inspects the materials and glides his fingers over the curves. In Sarah Anthes' case, it's love at first look. "I could well imagine going on my next holiday with him," she says, already preparing their future life together. And what is the object of the five employees' desire, each one getting to know him in their own unique way? It's none other than the newest member of the Opel family: the KARL compact car.
RESTRAINTS? NOT WITH A NEW CAR!
The first photos are out, and the vehicle has been available for order since January. Still, only a few lucky people have been able to see the small car up close and in person. In an exclusive for the Opel Post, the five employees were given around an hour to get to know the KARL. No compromises were made in choosing the site for the first date: It had to be where he calls home. The five visitors, full of curiosity, enter the expansive showroom of the Design Center in Rüsselsheim, which is normally closed off to the public. The blue cloth that initially shrouds the KARL slides off. The date can now begin! When the employees meet a new member of the Opel family, it should be little wonder that caution is thrown to the wind.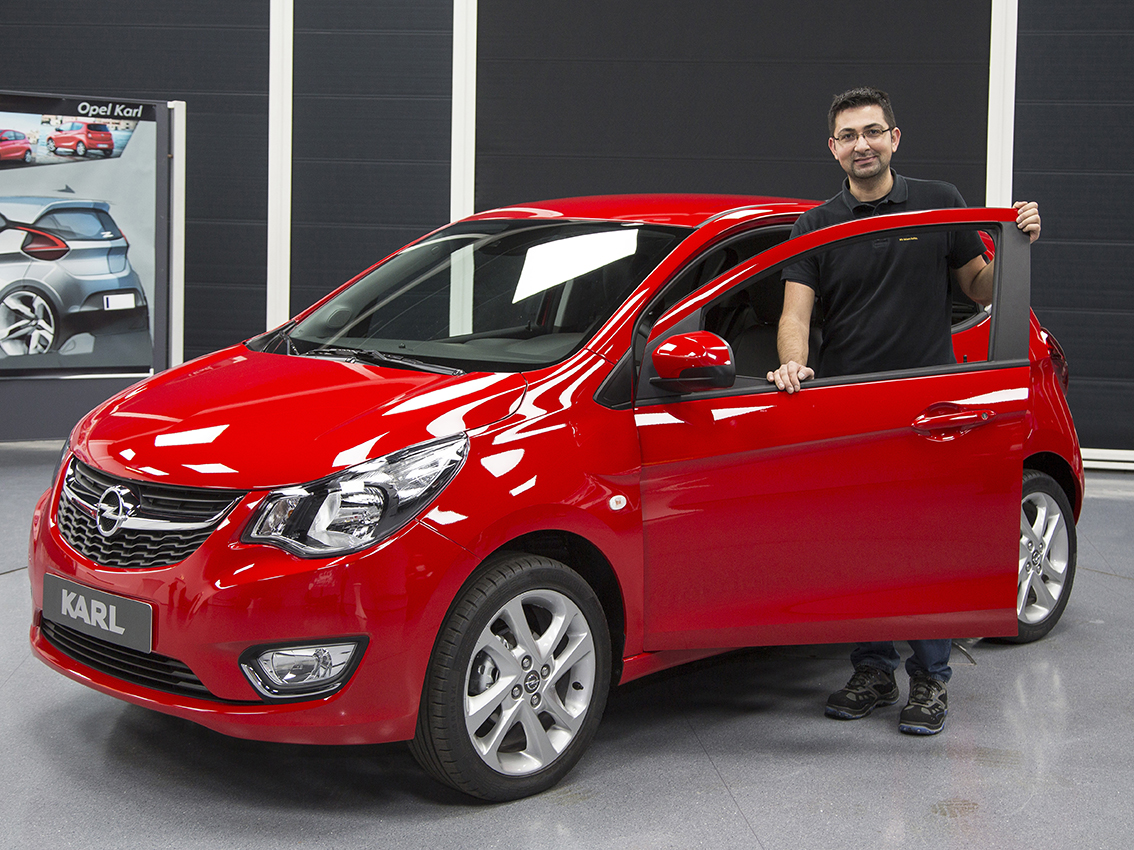 »
"This is an entry-level model that we can be proud of." 
Adem Koyuncu
Less than a minute later, there are hands everywhere. Every imaginable button is being pressed, people are poking their fingers to check the gaps, the hood is open, the back seat is full, and the steering wheel is in firm hands. The only one maintaining a respectful distance is Adem Koyuncu, 32, who tilts his head slightly to one direction as he takes in the outer contours in silence, admiring KARL like some priceless artwork at a museum. "It's even better looking in person than in the photos," he nods in approval and then adds, "much better." Short overhangs and tight lines: Those are the words the industrial mechanic from the paint shop in Rüsselsheim uses to describe the new model. It's got character, too. "The sickle on the side that runs along down here is clearly an Opel sculptural design element. It's a great touch. The door handles also have elegant lines," he says. Competitors in this segment often sell cars that look like a fridge on wheels. "This is an entry-level model that we can be proud of."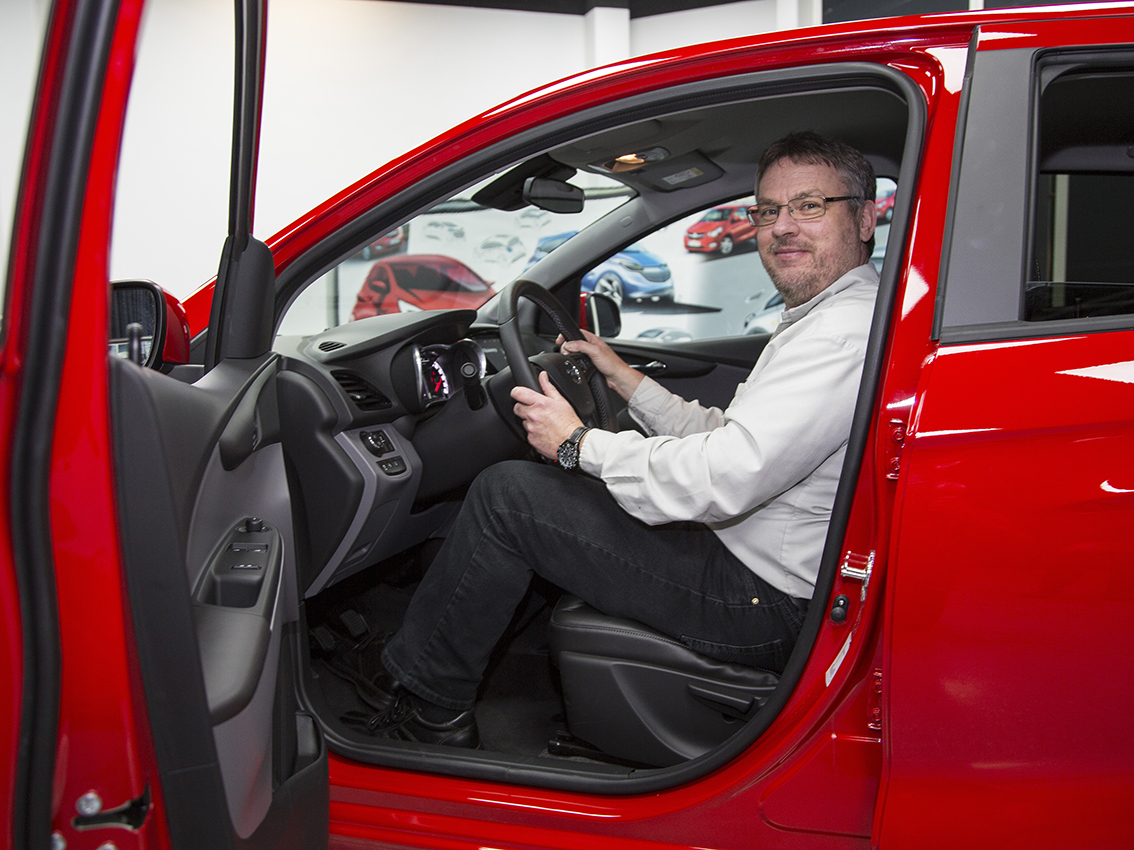 »
"The car can really be had for under €10,000?"
Thomas Preiß
The driver's side window goes down and Thomas Preiß (51) peers out. Thomas, who works in Industrial Engineering, is casually sitting with his hands on the steering wheel. "The car can really be had for under €10,000?" he asks as he glides his fingers over the chrome appliqué on the cockpit controls. "I recognize these from the Astra," he says in approval. "High-quality, two-tone design. There's a lot of place to stow things, even above the glove box. IntelliLink. Everything that you need is here," Thomas explains while examining the car. "My wife would love that," he says as he presses the switch to turn on the heated steering wheel. KARL begins to shake.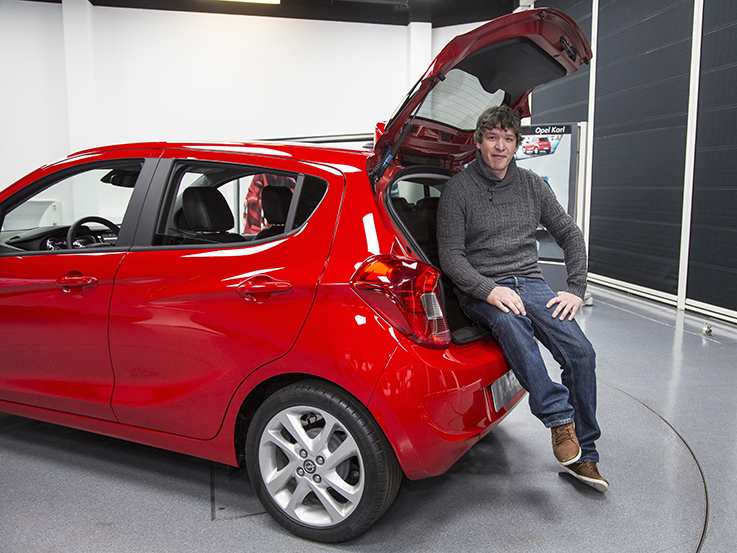 »
"There's…space…for…at…least…two…crates…of…water" 
Sebastian Windgätter

Sebastian Windgätter (35) is sitting on the lip of the trunk and is rocking up and down. The car does likewise. "There's…space…for…at…least…two…crates…of…water," he sounds off, each word followed by a brief pause in step with the rhythm of his gyrations. He considers himself to be practical when it comes to cars. "It has to be functional and affordable," states the Quality Support employee. Lest we forget safe as well. As if on cue, Opel marketing specialist Martin Golka now appears in front of the trunk. The two men begin to talk shop and discuss the many advantages of lane departure warning, hill-start assist, and cruise control. For practical men like themselves, low insurance premiums really get them exciting.
Sebastian Windgätter gets the decisive crackle by the list of safety features: In dense traffic the city mode makes the power steering even more supple, the park pilot protects against bumps and scrapes when parking, the speed control assistant including speed warning ensures the right pace, and fog lights illuminate the road in adverse conditions."Wow, so much car for so little money," says the industrial mechanic, still as excited as he was at the beginning.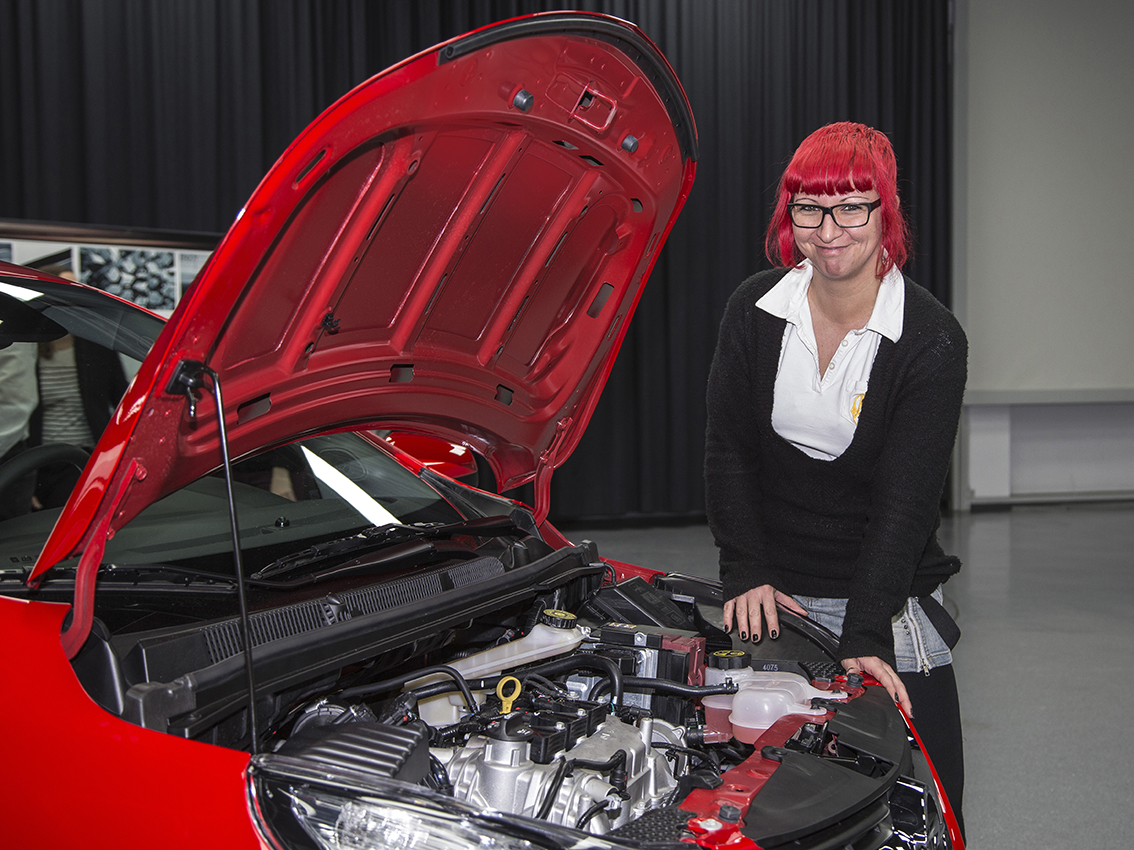 »
"Looks aren't what interest me. What I want to know is how it works."
Nadine Vera
WOMEN PAY ATTENTION TO INNER VALUES
And what are the two women among the crew of five checking out the car doing? They've had their heads poked under the hood for some time now. Nadine Veda, 32, whose hair nearly matches the color of the KARL's red chassis, says, "Looks aren't what interest me. What I want to know is how it works." With a smile, she tells us she learned to take this approach in her time spent studying philosophy, though she never did complete her degree. Nadine has now worked for nine years at the maintenance and repair center in Rüsselsheim, where she produces gear blanks. Nadine also likes tinkering on pickups in her spare time. "It's a one-liter, three-cylinder engine. It's really quiet," Sarah Anthes (23) , an assistant at the chassis plant in Rüsselsheim, says knowingly. She is the third generation in her family who has worked at Opel. The 24-year-old is by her own admission a 'true auto enthusiast.' In her childhood, Sarah heard car stories all the time. The two women discuss the placement of the engine and how you can tell KARL was designed around the engine. "Every centimeter of space has been optimally used," explains Anthes.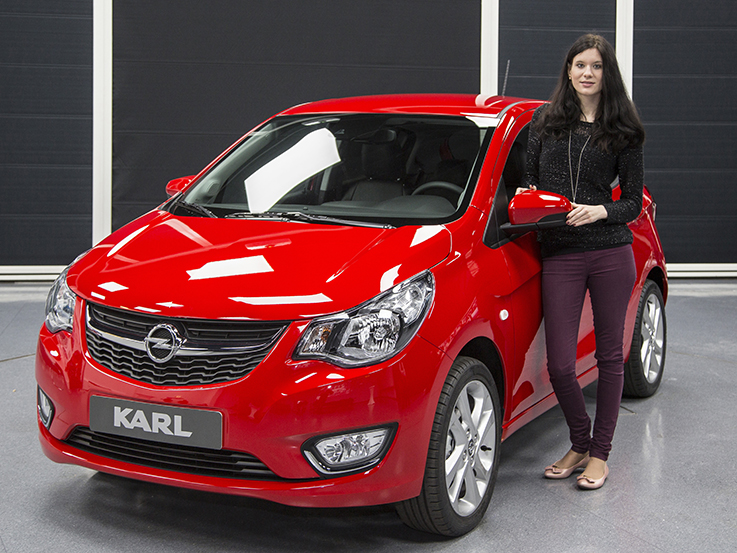 »
I could well imagine going on my next holiday with him.
Sarah Anthes
"Hey, this car seats five. Hop in," exclaims Adem Koycunu and makes for the KARL. "Scoot over." "I want to be in the middle." "Wait, I've connected my phone." "Change the song." "Open the door." All this is to be heard. There is then silence for the first time in an hour. Everyone is just sitting without saying a word. 'I gotta feeling' from some pop tune can be heard in hushed tones from the speakers. "Has anyone got the key? I'd love to go for a spin." By all appearances, KARL has scored big time on its blind date.
An Attractive Face with Strong Features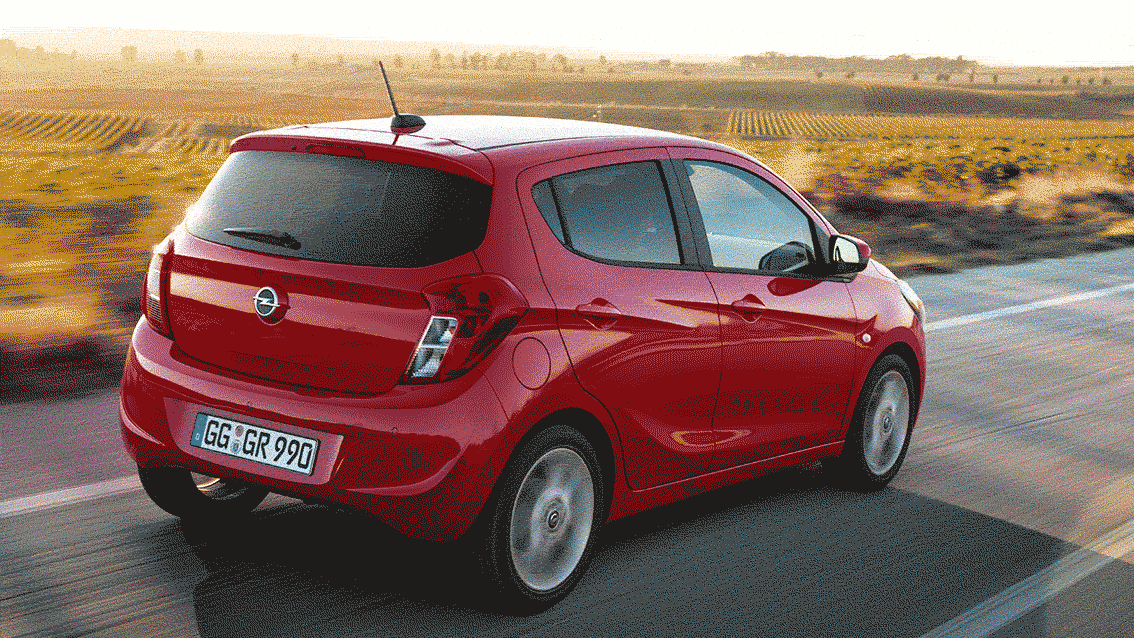 Finally had enough
of wild adventures? Tired of speed dates, small talk, and having to scream just to be heard? Are you yearning for something more stable with long-term prospects? Then I'm the one for you.
My measurements:
I'm 3.68 meters long, 1.48 meters high and compact in stature.
Inner values:
I'm a sophisticated gentleman who is both passionate and compassionate. Quiet yet confident and full of energy.
Variable:
You can mold me according to your wishes and preferences. I exist in three trim levels and I cut a fine figure in ten different body tones, for instance in "Night Violet" and "Kiwi Green".
My environment:
My favorite thing to do is explore cities with you. I'll show you how well connected I am and how important comfort is on a day-to-day basis. All you need to bring with you is your smartphone. Then lean back and experience with me how exciting the world can be.
Personal assistants:
At at all times they ensure our safety wherever we may be. If these are all things that interest you and you are attracted to men with a compact build and friendly Opel smile, send me a message.
Code word: KARL