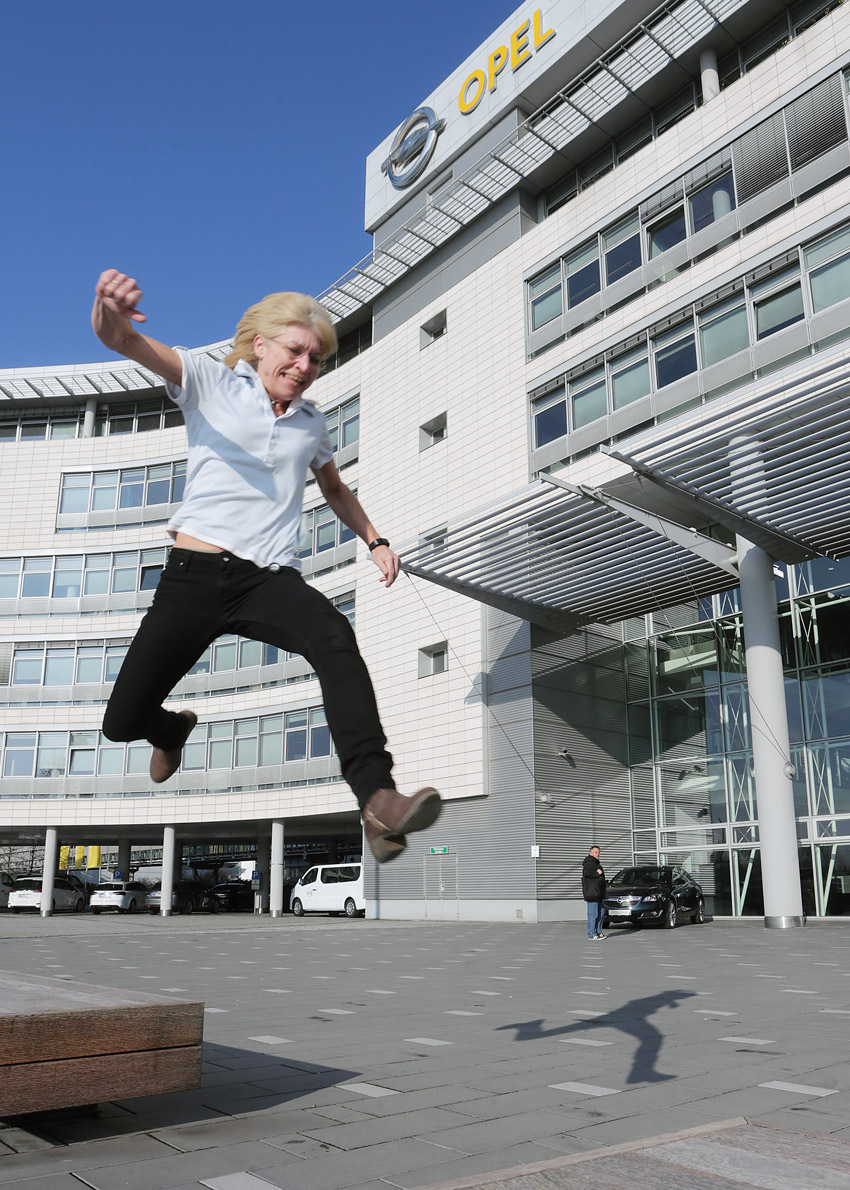 …and take big leaps while you're at it.
---
The Opel company run is a great success – in the span of only four years, it's grown to become the largest athletic event held in Rüsselsheim, Germany. Last time around, a total of 2,800 runners took part. Sigrun Engel participated for the first time in 2014, covering the 5.4-kilometer route together with fellow workers. "That day marked the beginning of a new chapter in my life," she tells us today. On that day, the then 49-year-old rediscovered her passion for track and field. She started training at the gymnastics club in Königstädten, Germany, and began entering athletic competitions shortly thereafter. She's met with success after success: At the beginning of this February, she brought home two gold medals and one silver medal from the German national senior indoor track and field championships, held in Erfurt. And, in her words, "I'm still getting better."
Her current achievements wouldn't be possible without her prior athletic experience. Engel competed in track and field as a teenager, but quit at the age of 15 when she began her industrial management assistant course at Opel. Later on, she played handball for a few years. But that also came to an end ten years ago with the birth of her second daughter – after all, children constantly keep their mothers on their toes. That being said, she still managed to pass on her love of sports to little Danielle. Three years ago, Sigrun Engel signed up the then seven-year-old for the track and field program at her local gymnastics club in Königstädten.
A Trainer of Champions and Master in the Art of Motivation
Two years ago, Engel accompanied her daughter to the club after her fellow workers in the 'Order Fulfillment' department for vehicle handling and scheduling asked if she'd like to join their team for the company run through downtown Rüsselsheim. Engel wanted to prepare for the occasion and was seeking assistance. As fate would have it, she found Liviu Giurgian, a former top Romanian athlete who now works as a trainer in Königstädten. Giurgian gets people of all ages excited about running – he's a master in the art of motivation and a trainer of champions, with a keen eye for untapped potential.
He quickly saw such potential in Engel. She had virtually no trouble at all reaching the fitness level required for the run. A few weeks into her training, Giurgian asked her if she'd be interested in entering some real competitions. At first, Engel was flabbergasted: "I'd never run hurdles before." She decided to take the challenge – and saw incredible results. At the subsequent district championships, she directly qualified for the German national championships, where she placed second in high jump, third in hurdles, and fifth in long jump. In June 2015, a year after her return to running, the 51-year-old found herself facing a new obstacle: a scheduling conflict between the Opel company run and the German national track and field championships.
---
"You're never too old for sports. And now I know what was missing from my life when I didn't exercise for years."
By the way: The next Opel company run will take place on 14 July in Rüsselsheim – and you can register online starting on 17 March.
---
"I Won't Truly Succeed Until I'm 55"
The mother of two is reaching one milestone after the other, and she's convinced that she can "still get even better." At the moment, she's considering whether to start training for the shot put and 800-meter race as well, which would make her a pentathlete. She's set high goals for herself; namely, competing in a European or world championship. "I don't think that I'll truly succeed until three years from now, when I enter the next age bracket: the over-55s," she explains.
She's learned that "you're never too old for sports. And now I know what was missing from my life when I didn't exercise for years." Working out, especially in the evenings, helps her reduce stress and gather strength for another day's work. "I think it's great that Opel employees get so many options for athletic activities – from the gym, where I've worked out in the past, to Qigong sessions during lunch breaks," she says.
---
Results from the German Senior and Winter Throwing Championships
⇒   Sigrun Engel dominated the 60-meter hurdle sprints with a finishing time of 9.99 seconds.
⇒  She reached 1.46 meters on the high jump.
⇒ After a thrilling battle for first place, the Opel employee came in second in the long jump with a distance of 4.92 meters. The first-place winner jumped 5.04 meters.
Last update February 2016