"The completion of P4 provided the ideal opportunity to invite our families and friends to have a look at our workplace after ten long years."
Holger Hochgesand, Safety Tests
The dummy really has its work cut out. For an eleven-year-old, Niklas Lang delivers a remarkably hard and precise blow to the ribcage. "Can I hit him on the nose too," Niklas asks his father Torsten Lang – he knows what is expected of him. He gets permission. Beating on a crash-test dummy is obviously fun but it is also vital for the Safety colleagues so that they can measure and document the forces. "We want to demonstrate that, no matter how hard you hit the dummy, you will never even get close to the forces he would have to resist if involved in a car crash without wearing a seat belt," explains Holger Hochgesand, who organizes the Safety family day together with Bettina Williams, Oliver Renard, Olaf Allgeyer, Wolfgang Becker und Michael Reber.
---
The new P4
The completion of the new P4 took some time but the Safety employees will definitely agree that it was worth the wait. "We know have much more office, analytics and workshop space," said a delighted Holger Hochgesand. "Everything is under the same roof now and that will help us work even better as a team." Two new test benches will also be installed in the next few days. "We need them to meet the latest legal requirements that have just come into force in the USA," explains the safety specialist. Vehicles for the US market are also tested and engineered in Rüsselsheim.
Dummy boxing is one of many infotainment stations that the employees set up for the family day last Saturday. A teddy bear demonstrates the centrifugal forces that a small passenger has to withstand when he hits an obstacle when not wearing a seat belt. The crash cars line-up is extremely impressive – authentic deliverables of the department.
AUTHENTIC INSIGHT
The Opel-Band "Treppenhaus B" is playing and Opel Classic has made exhibits such as the Moonlight-Roadster available – obviously, only after the Safety colleagues assured them that they would not be crashed for demonstration purposes. "We love our Opel oldies far too much to do that," says Holger Hochgesand with a smile. The colleagues also love the current cars in the Opel portfolio but that does not stop them making an ADAM crash into a wall at 40 km/h. "Well, we wanted to give people an authentic insight into our work," explains Holger Hochgesand.
Ninety Safety employees are on site to look after the visitors and various stands, to inform and to guarantee safety – but that is something they specialize in. It is not easy to organize a family event in the P area of the Rüsselsheim plant – an area that is normally extremely well protected from prying eyes.
BOSSES ALSO GLAD TO ATTEND
"The completion of P4 provided the ideal opportunity to invite our families and friends to have a look at our workplace after ten long years," said the organizer. The superiors did not just support the plan; they are also on site to celebrate. Charlie Klein, Vice President Vehicle Engineering Europe, Wolfgang Schwenk, General Director GME Vehicle Development and Ken Morris, Vice President Global Product Integrity are all present. Holger Hochgesand can also welcome his American counterpart Albert Ware who is responsible for the safety tests in the US.
---
---
Günter Schmall, Director GME Vehicle Safety Integration, gave a review of 70 years of car tests at Opel – going back to the days when cars were covered in sandbag towers to test the stability of the roofs, right up until the era of computer-aided crash simulations.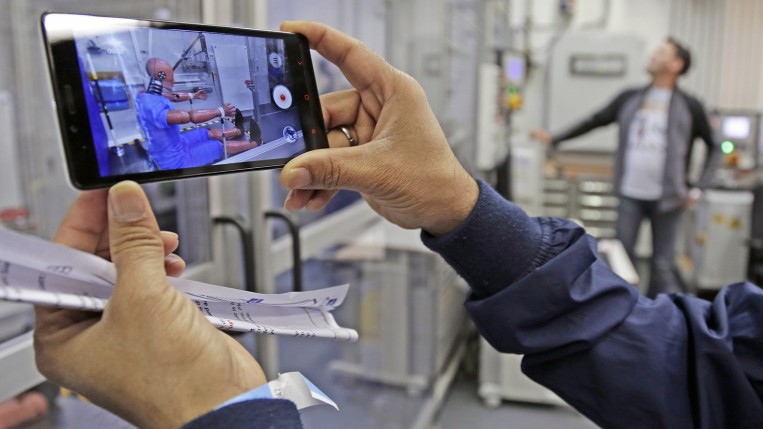 Posing for a photograph: At least a dummy doesn't pull a silly face.
Kurt Jung retired 21 years ago and will celebrate his 80th birthday soon. "It's great to see how things have changed."
But what about dummy boxer Niklas Lang? He has made his mind up. "I want to work here when I am big." Father Torsten is delighted. He is a group leader in sled operations.