"I'm a rock n' roller through and through."
– Tim  Breideband –
OPEL POST: Tim, heavy metal was long past its heyday by the time you were born in 1993. How did you discover this genre of music?
Tim Breideband: I was already wearing my hair long when I was 12 years old, and I listened to completely different music from my school friends. Rappers like Eminem and 50 Cent didn't interest me at all. I first got into Michael Jackson, then Billy Idol, AC/DC, Motörhead – the whole hard rock scene.
Did you also listen to Bonfire?
I'd heard of the name, and I'd seen the logo, though the only song that I really knew was 'Sweet Obsession.' But melodic hard rock is exactly what I'm into. I'm a rock n' roller through and through. Bonfire songs have lots of amazing guitar solos. They play some ballads, but also heavy songs.
You've been playing the drums since you were four. Do you come from an especially musically inclined family?
No, not at all. I'm the oldest child, and I'm the only one who plays an instrument. I was already hitting pots and pans with wooden spoons when I was three years old. I played in my first band when I was 12, and we covered songs by AC/DC and Guns N' Roses. When I was 16, my drum teacher invited me to play with his band (At Vance) at live shows, which was a great way to get experience being onstage. I made more and more contacts just by meeting well-known musicians backstage.
 
---
---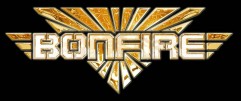 Bonfire was founded by Hans Ziller in Ingolstadt, Germany, in 1986. The band released Fireworks at the end of 1987, which sold over 250,000 copies and is the band's most commercially successful album to date. The critics compared Bonfire's musical style to Bon Jovi, while others lauded the band as the successor to the Scorpions (formed in Hanover). Bonfire toured through Europe with British cult band Judas Priest in 1988.
After a long and colorful history, Bonfire returned with a brand new line up in 2014/2015. Pearl, the band's 'best of' double album, was released in March 2016. The band will celebrate its 30th anniversary by kicking off its European tour on 7 April.
Sample – Tim and Bonfire in action: 
www.youtube.com/watch?v=z73P8yOkDt0
So you discovered your talent very early. Was it your dream to have a career as a musician?
Yes, I always dreamed about playing music as more than just a hobby. But luck played a huge role in everything. I was often simply in the right place at the right time. I was lucky enough to record studio albums with Willy Wagner, who played bass for Xavier Naidoo, and Leland Sklar, who was Phil Collins' bassist. This experience helped me become more versatile as a player – it made me listen to more than just hard rock, and I was able to learn from other styles of music such as fusion, jazz, and pop.
How did you meet Bonfire?
It was at the end of 2015. A drummer friend of mine recommended me to them. I didn't even really have to audition. I just went to Ingolstadt with my drum set and Hans Ziller, the founder of the band, said: "Take a seat, we're about to play." The chemistry was great right off the bat.
What happened next?
There were six concerts coming up very soon for the final stretch of the tour in December. I had to learn 17 songs in 13 days. There was only enough time for me to have one rehearsal before the first show, then I was thrown right onto the stage. After the second show in Bochum, the band asked if I wanted to become a permanent member of Bonfire. I didn't really have to think twice. I just thought, 'how amazing is this?'. When you get a chance to move a step closer to your dream, you simply have to go for it.
Meanwhile, you've also been a member of Opel since 2015, isn't that so?
Yes. I work in the manufacturing and final assembly unit in K 170. We build the front seats, mirror connectors, and back doors for the Zafira Tourer and Insignia. I really enjoy working for Opel – my fellow workers and I get along very well and my uncle is my team leader. I originally trained as a carpenter and spent some time working in a carpenter's workshop where I had to grind away for 12 hours at a time sometimes when something needed to be finished. This really affected my personal life. Things are better at Opel; I really appreciate having fixed working hours. And I'm very grateful that Opel is giving me the time to go on tour. I plan to carry on doing both jobs for the time being. I'd like to improve my drumming skills and see how things pan out.
Are there any similarities between your job at Opel and your job as a drummer?
Hmmm. (Thinks for a moment.) I approach both jobs like a professional. Efficiency, discipline, and focus are very important for both jobs. Of course, there's no audience when I'm on the production line. At most, my supervisor looks over my shoulder every now and then, and when I make a mistake, I can just stand to one side while somebody helps me. But if I make a mistake onstage, I can't change anything. Playing in front of 1,000 people is something else – the pressure is enormous. When you look at it that way, working at Opel is much more relaxed. It doesn't give you quite as much stage fright. (Laughs.)
---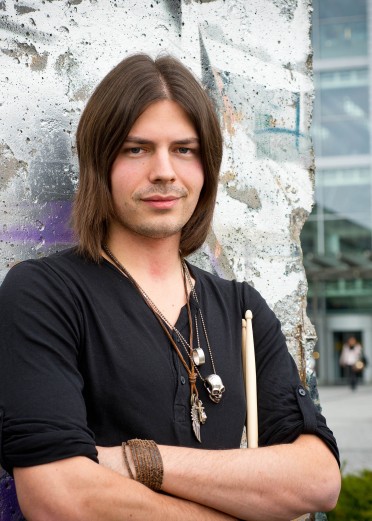 PERSONAL BIO
Tim Breideband was born in Mainz, Germany, in 1993 and grew up in Ginsheim. After training as a carpenter in Ginsheim-Gustavsburg, he moved to Rüsselsheim to work for Opel. He has been working in the manufacturing and final assembly unit in K 170, Section 5, Shift A, under line foreman Kaufhold since the end of the summer of 2015.
Breideband began playing the drums when he was four years old and also picked up the guitar and bass later on. His bands and projects so far include Razorbacks, Paul Bauer Connection, At Vance, and Roughhouse. Breideband has been playing the drums for hard rock band Bonfire, famous throughout Europe, since December 2015.
He lives with his girlfriend and their son in Bodenheim.
–––
"I was already hitting pots and pans with wooden spoons when I was three years old."
–––
---
---
"I approach both jobs like a professional."
– Tim  Breideband –
---
Tour Dates
---
7 April     Osnabrück, Germany
8 April     Essen, Germany
9 April     Memmingen, Germany
10 April   Obermarchtal, Germany
14 April   Bruchsal, Germany
16 April   Aalen, Germany
17 April   Ahaus, Germany
18 April   Luxembourg City, Luxembourg
21 April   Bremen, Germany
22 April   San Sebastian, Spain
23 April   Zaragoza, Spain
24 April   Mannheim, Germany
27 April   Prague, the Czech Republic
28 April   Rosenheim, Germany
29 April   Bensheim, Germany
30 April   Flensburg, Germany
7 May  Genk, Belgium
8 May  Zwalm, Belgium
13 May  Cham, Germany
14 May  Wetzikon, Switzerland
21 May  Klatovy, the Czech Republic
27 May  Kössen, Austria
28 May  Ingolstadt, Germany
2 June   Würzburg, Germany
24 June  Hamburg, Germany
25 June  Rheine, Germany
2 July   Bergamo, Italy
8 July   Markneukirchen, Germany
9 July  Horn-Bad Meinberg, Germany
22 July  Pförring, Germany
23 July   Fritzlar, Germany
28 July  Brande-Hörnerkirchen, Germany
5 August  Gossau, Switzerland
26 August  Oslo, Norway
27 August  Linköping, Sweden
2 September  Saarburg, Germany
3 September  Lüdenscheid, Germany
9 September  Barcelona, Spain
10 September  Madrid, Spain
23 September  Kiel, Germany
24 September  Rostock, Germany
29 September  Nuremberg, Germany
6 October  Miltenberg, Germany
7 October  Cologne, Germany
8 October  Straßkirchen, Germany
9 October  Augsburg, Germany
13 October  Bielefeld, Germany
14 October Wiehl, Germany
4 November  Olching, Germany
5 November   Bad Friedrichshall, Germany
10 November Wolverhampton, U.K.
11 November North Wales, U.K.
12 November Regensburg, Germany
19 November Herford, Germany
1 December  Hamburg, Germany
2 December  Siegburg, Germany
3 December  Bochum, Germany
8 December  Kandel, Germany
9 December  Mörlenbach-Weiher, Germany
27 December Kaiserslautern, Germany
28 December Neuss, Germany
29 December Ludwigsburg, Germany
Speaking of stage fright, are you new to playing in front of so many people?
No. I've played at festivals before, in front of 1,000 people. But with Bonfire… We'll be playing at 16 shows in April alone. That's as many gigs as I've done in maybe the last two years. I'll have to pace myself. There are 62 shows confirmed for the tour so far, which means getting stage fright 62 times and going to 62 after parties. I think that's quite enough. (Laughs.)
How do your band members feel about it?
They're really relaxed. The other guys are between 40 and 60 years old, so they're veterans with lots of experience being onstage. But age doesn't factor into it so much. Music connects you. We understand each other so well after having played six shows together. The guys – and the whole team – took me on as a full member right away. Nobody is left out – we all treat each other like family.
The tour takes place from 7 April until the end of the year all over Europe, from Scandinavia to Spain and from the Czech Republic to England. How do you get to your gigs and where do you stay?
We travel in two minibuses: one for the band and one for the equipment. We'll only fly to a couple of the shows – to Spain or to England. We get our personal space once we get to the hotel, but we still spend a lot of time hanging out together. The guys have so many rock n' roll stories to tell. It never gets boring. (Grins.)
I assume you're talking about sex, drugs, and rock n' roll…?
It's not really like that anymore. It's more like a job that you need to perform like a professional. Of course, after parties are a part of the gig, but they don't get too out of hand. You can't afford to go crazy at night when there's a press conference waiting for you in the morning. The guys are experienced enough to stay sensible. They're very professional, and they expect the same from me.
What will be the tour's highlights for you, and what are you looking forward to the most?
We'll be playing at Turock in Essen and at the Alte Seilerei in Mannheim already in April. These are very iconic venues that all professional musicians want to say they've played in. We're playing a few open-air gigs in the summer and I'm very excited about playing at the Rock am Stück festival in Fritzlar, for example. And I'd be very excited to say hello to any of the Opel employees who show up!