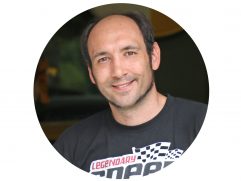 "I bought and refurbished 42 Opels in just one year."
– Daniel Holesch –
Daniel Holesch, a friendly car fanatic from the German region of Lower Bavaria, actually prefers to be called 'Manta-Dany,' and turned his hobby into a vocation a long time ago. At his home in Pfarrkirchen, everything revolves around the brand with the lightning. Even just a glance around the former farm, which has been entirely rebuilt and refurbished over the past few years, reveals a new find in every corner. The old barn and cowshed – now completely overhauled – don't just provide a home for the Mantas: Everything's Opel here.
As he shows his visitors around, Daniel just can't hide his joy for his treasures, knowing the story behind every piece in his collection, no matter how small it is. An Opel refrigerator here, an Opel stroller there, and a drawer brimming with badges of different brands and models over there. Dotted between all this are bikes, promotional stuff, antique radios, and a whole host of memorabilia – not to mention cars, cars, and more cars. Virtually all his Opel models from every era are in enviably great condition, and not just Dany's personal collection pieces either. He's got a thing for classics too.
---
---
The oldest piece in his vast collection of around three dozen vehicles is an Opel 1.2 Liter from 1934, which is obviously just as roadworthy as all the other cars parked in the yard. Dany bought the car from an Opel dealership a year ago, where it had been owned by the company since 1948. Although the rest of his fleet isn't quite as old, what it lacks in age it makes up for in quantity!
A NEW OPEL A WEEK
We all know the feeling: No matter how much space you've got, it's never enough. Dany only took on the property in 2010 and then just 'casually' built, expanded, and renovated a new home, stable, and barn. This just gives us a glimpse of the enormity of the work involved in the project, not to mention the fact that he still had his main job and the flourishing Opel classics trade to deal with at the same time as all the building work. "In the same year as I bought the house, I also bought and refurbished 52 cars," explains Dany. He is also planning to expand again soon: The parking situation is getting to him – having to weave his way in and out of each of the cars is not ideal – so in two years' time, the extensive grounds will make room for a hall with another 16 parking spaces in it.
---
---
When asked what his wife thinks of his time-consuming hobby, Dany laughs: "She knew what she was letting herself in for!" It's all completely understandable given his family history, since everyone Manta-Dany knows has actually got the bug. He inherited his love for Opel from his two older brothers. Each of them specialized in a different model, and for Dany it was the Manta B series.
BECOMING A FULL BLOWN CAR FANATIC
It was clear that Manta-Dany would develop into a full blown car fanatic from a young age. At the age of six, young Dany took his brother's moped on a joyride, took a tumble, and broke his collarbone – which clearly only made his love of vehicles even stronger. Even his fascination with the classics was clear from a young age. Dany got his first when he was just 14: He secretly bought an NSU Quickly using money he'd earned from summer jobs. He worked hard to refurbish it and then conspired to hide it at his neighbor's house away from his parents. The very fact that he replaced the legendary moped with an Opel Admiral in need of TLC at the age of 18 still bugs him to this day, despite the fact that this is the cornerstone of his collection – Dany found himself another 'new' Quickly a long time ago and fixed it up like his first.
---
Daniel's thoughts on the Opel modern classic trend
 « The price of the Opel modern classic has been on the up for five years, and I'm pretty sure this trend will continue. For a well-preserved 1987/88 Manta GSI, you can expect to shell out around EUR 15,000.
« Sporty models over 100 HP, such as a Manta A and B, Kadett C GTE, and an Ascona B Sport are especially popular.
« Most of my customers are aged between 25 and 40 and have never driven the cars themselves. Then there are my customers who are over 50, who want to buy one of these vehicles to fulfill a childhood dream.
« The fascination with the cars is best explained by the feeling of pure unadulterated driving pleasure.
« To anyone interested in a (still attractive) modern classic, I recommend the Omega A, Kadett E GSI, or Senator A – all of which will soon carry a H registration suffix plate. The Calibra Turbo models are also not to be sniffed at, and neither is the 4×4 Turbo Vectra.
---
---
Where his precious cars are concerned, Dany is not as purely fixated on Mantas as his nickname might suggest, as there are all kinds of Opel jewels from other series to be discovered in his collection. The most luxurious piece in the place is the Bitter Insignia 2.8, which is in practically brand-new condition and was previously owned by Erich Bitter himself.
His collection also includes the obligatory Opel GT as well as Kadetts from various generations, and obviously Mantas. With the exception of a slightly patinated Commodore B, they are all in excellent condition, and all ready to drive – as Dany proves when he climbs into the Commodore, turns the key, and the six-cylinder engine bursts into life after two or three revolutions of the crankshaft. "I've had to push a lot of cars in my life, and I don't want to do it anymore," he explains. Every vehicle he has is ready to start and drive straightaway.
EXHIBITS NOT FOR SALE
Dany's collection also brings together exhibits from Opel history that are not for sale, and there are quite a number of them. The flashiest showpiece has got to be the candy-colored Mattig Manta, which is faithfully modeled on the original design of the car in the film Manta, Manta, which features a young Til Schweiger. All except the engine, that is – Dany treated the ride to a new 240-HP 3.6 liter model.
---
---
And then there's his 'bad weather car,' which is in a condition that many would really like for their 'Sunday excursion' classic cars: A bright red Kadett C with a 'slight' performance enhancement – what else would you expect from Dany? Through the shop window of the expansion, there's another C Kadett peacefully parked up with a three-figure mileage and an Ascona B that still looks new, despite a four-figure mileage.
GREETINGS FROM WALTER RÖHRL
But not every vehicle he owns is in his yard at the moment. It's typical: The day we visit his house, the gem of his collection is missing – it is currently at the paint shop receiving the final touches. An Ascona 400, faithfully restored based on the original design of Walter Röhrl's winning car at the 1982 Monte Carlo Rally. Dany's hero has also taken a liking to the car: Walter said that as soon as the Ascona was ready, "he'd come round and we could take it for a spin." It's a deal! This is the next highlight in Manta-Dany's Opel universe.
Last revised: August 2016