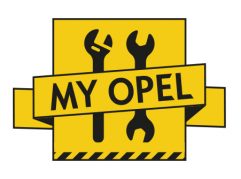 Employees open their garage doors to Opel Post
Would you also like to show us the prize possession that's stolen your heart? Write to us at opel.post@de.opel.com
Riding in the convertible with daddy is pure joy for Lena. She relishes the feel of the wind, the landscape of the Western Palatinate, and the looks on the faces of pedestrians. "A woman once dropped her broom when we drove by her house," recalls the nine-year-old excitedly. And what kind of car is it that makes playing the convertible gal so much fun? "An Opel." A Cascada, then? "No. A much, much older one."
Indeed it is. Sascha Bauer's Opel 6 was built in 1936. Before that, he had a P4. He loved that one, too, but it was a little cramped inside, and it bothered him having a roof right over his head. And besides, he wanted his daughter to ride along with him. So he decided his next vintage Opel would be a convertible. The plan clearly came to fruition.
Bauer is a toolmaker at the pressing plant in Kaiserslautern. He's been a technology enthusiast for as long as he can remember. In the 1950s, his grandfather was the second farmer in his native Niedermohr to get a tractor. It was an 11 Series Deutz, the legendary model that first made tractors affordable for smaller operations. Before that, the Palatinate relied on horse-drawn plows.
---
"
I never even considered
anything else."
– Sascha Bauer –
---
---
Sascha Bauer was just nine years old when he tried driving for the first time in what was already a vintage model: "I had to steer standing up, or I wouldn't have been able to reach the clutch."
---
A FAMILY-FRIENDLY CLASSIC
---
His passion for vintage agricultural machinery lasted into adulthood, too. He had up to 12 tractors stockpiled at his home in Niedermohr at times, most of them made by the cult brand Lanz. Not only did it take a lot of time and money to keep them all running and in good shape so they could put in an appearance at a show every now and then, but, as Bauer reports, "It also disturbed the peace at home."
That's how he got the idea to buy a family-friendly classic. And it simply had to be an Opel: "I never even considered anything else." After all, the 46-year-old has worked for the company since 1992. And back in the 1960s, his father Werner was a member of the second training class to start their future careers at the Kaiserslautern plant. You might even say he was bound by tradition. That's why Werner Bauer still cherishes an Opel GT like the apple of his eye – in a garage that's practically a little Opel museum. The collection also includes old advertising signs, sewing machines, and a refrigerator from the brand.
---
---
The bestseller of the thirties
The Opel 6 was the immediate predecessor of the famed Super 6, which had a much more powerful engine. The Opel 6 had a water-cooled, two-liter engine with 35 hp that could reach 100 km/h and needed between 12 and 13 liters of gas to go 100 kilometers. 52,594 Opel 6s rolled off the assembly line between 1934 and 1937, making it
the bestselling German mid-range car of the 1930s. And it has something else on its better-known successor. In addition to being offered as a sedan and a convertible, the Opel 6 was also available as a 'landaulet,' in which only the back seats are covered by a convertible top. The driver and front-seat passenger sit in the rain.
---
Sascha Bauer purchased the P4 years ago in Wolfstein, while his wife and daughter were off buying shoes. The search for the Opel 6 convertible was more difficult. Along the way, he benefited from the expertise of the 'Old Opel Interest Group' (ALT-OPEL IG e.V.). "I already had my eye on an Opel 6 convertible, but Rainer Wieler, the group's model adviser, recommended against buying it, because it didn't have any trim. There's just nowhere to buy it anymore." This insider info was worth its weight in gold.
---
INSIDER TIPS

from

  ALT-OPEL IG
---
Sascha Bauer finally found what he was looking for in Munich at the home of a vintage car enthusiast whose age forced him to part with his crown jewel. It was an Opel 6 convertible in muscatel red with leather seats in beige and only one side window on the left and right. "There are only two of this version still in existence," says the toolmaker with a grin. What's more, the antique was in tiptop shape. "Since then I've hardly even tinkered with it. I just had to recalibrate the coupling rod, and Rainer Wieler gave me a few good tips for that, too."
---
---
The family now enjoys idyllic excursions together. Five minutes is about all it takes to lower the canvas cover and fasten it down. Then off they go. The two-liter engine purrs relaxedly at the average cruising speed of 65 to 70 kilometers per hour. This summer, the Bauer family drove the Opel 6 convertible over 2,000 kilometers. Around 1,500 of them were taken up by a tour to the annual international meeting of ALT-OPEL IG in Eggenfelden, Germany. The rest can be chalked up to Sunday excursions in the Palatinate. Past astonished faces. And falling brooms.
---
Stand November 2017