---
"The new
bi-turbo diesel
deserves nothing
but praise."
auto motor und sport
---
The Opel Insignia Country Tourer is right at home in challenging terrains, but it also offers drivers comfort and luxury. Where better, then, to show off the qualities of this sporty top model than the mountains of Switzerland? In the middle of November, around 50 media representatives from 18 countries converged at Lake Geneva to subject Opel's new all-wheel, off-road flagship to their discerning examinations.
Starting out on the shores of the biggest of all the country's lakes, the route also ended at a lake: Neuchâtel, in the 1,000-meter-high valley Vallée de Joux. Here, the journalists were housed at the five-star Hotel Pallafitte, built on stilts atop the lake. En route, they stopped in at the Hotel Château le Rosey, where they not only sampled the region's famed Malakoff dish – consisting of small, deep-fried cheeseballs – but also had a chance to quiz the planners and designers of Opel's Insignia Country Tourer. "30 centimeters of fresh snow, a crackling fire in the chimney, in-depth conversations all around – this media launch had a truly fantastic setting," says Martin Golka, the Head of Opel's International Product Communications.
---
---
Traversing Morges, Rolle, and Grandson, among others, the test route passed by a number of vineyards known for their exquisite wines. Known by whom, you might ask? Hardly anyone outside of Switzerland, sadly – which is because the locals stubbornly refuse to let go of their amazing produce. In fact, only a meager two percent of Swiss wines ever makes it across the border. The Insignia Country Tourer could certainly be used to remedy this situation, at least in theory – given its trunk volume of 560 to 1,665 liters.
---
"Hop in and feel fantastic! If you get the Country Tourer set up by Opel's Exclusive team, you'll end up with a motoring experience that is on par with the Mercedes E-Class."
Spiegel Online

---
In any case, driving along vineyards and through the villages around them offered plenty of opportunities for investigating the Country Tourer's unique qualities. Compared to the Sports Tourer, this range provides an additional 25 millimeters of ground clearance, front and rear underride protection, as well as black plastic trim around the wheel wells and bumpers. A total of four different engines are available: The base model is a 165-hp 1.5-liter turbo, which is joined by a beefier 260-hp 2.0-liter turbo. There are also two diesels – the base 170-hp 2.0-liter turbo as well as the new 210-hp 2.0-liter bi-turbo. Both the new top-of-the-range diesel as well as the 260-hp gasoline model feature an all-wheel drive with torque vectoring. This ensures the flagship remains safely on the road even when the driver takes a tight corner slightly too fast. Which certainly is tempting in a car like this…
---
---
Speaking of temptation: Here in the Romandy region, pop icon Phil Collins once fell head over heels in love with his interpreter, Orianne Cevey, while playing at the renowned Paleo Festival in 1990. Other celebrities to have found a new home here include Formula 1 heroes Jackie Stewart and Alain Prost, as well as silver screen legends Charlie Chaplin and Peter Ustinov.
---
"Right from the get-go, the new Insignia Country Tourer demonstrated how well it coped with muddy and rough terrain.
Yet no matter what you throw at it, the Insignia never loses any of its driving comfort."
Autozeitung.de
---
En route to their snowed-in destination at an altitude of 1,000 meters in the Vallée de Joux, the journalists faced a choice: Would their test drive be a relaxed countryside jaunt or a race to the extremes? In either case, the all-wheel system's torque vectoring made sure there was both motoring enjoyment and safety, thanks to the individual torque control provided for each rear wheel. This takes hold no matter if the road is dry, wet, or icy. "We had the last word on all the fine-tuning for the Insignia Country Tourer," automotive engineer Bernd Griebenow told the journalists at yet another pit stop, this time at the cozy chalet La Pinte de la Petite-Joux. As his colleague Jerôme Bailleul from International Product Marketing explained, Country Tourer drivers are a little younger than the average Insignia drivers; they have more of a sports and leisure focus, and they usually drive more than 25,000 kilometers per year. "In Germany, for example, six percent of the Insignia customers opted for a Country Tourer."
---
---
"No confusion,
no unnecessary gadgets."
Autobild.de zum Cockpit
des Insignia Country Tourer
---
---
Switzerland is mostly known as the home of cheese and of high-precision time-keepers. But it also houses treasures such CERN, the European Organization for Nuclear Research; located in the region of Geneva, this is one of the world's most respected research facilities. Here, scientists and engineers investigate the elementary components of matter by making physical particles collide at near-light speed.
In another area of lighting altogether, the new Insignia Country Tourer also has some dazzling technology to offer: the latest-generation IntelliLux LED matrix light. This also turned out to be crucial for our journalists to find their way to the finishing line, or rather hotel, at their destination of Lake Neuchâtel. From there, they were whisked back to Geneva Airport the next morning – taking with them a wealth of new impressions and inspirations. Read for yourself what the editor of Spiegel Online had to say: "When it gets dark, you gain an entirely new experience of this vehicle. This is when the matrix light comes to the fore – with its 32 individually controlled LED elements, each precision-aligned, it really turns night into day. And the Insignia into a giant lamp – literally."
---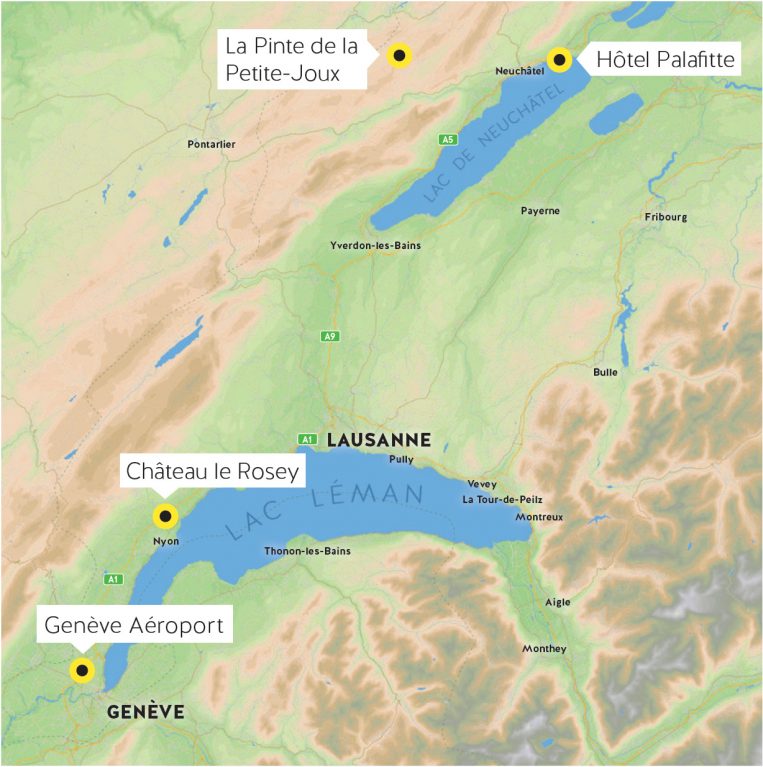 ---
Last update: November 2017